Research Center
Research Center Details
| Sl.No | Name of the Department | Year of Est.as Research Centre | No. of Eligible Guides | Total No. of Candidates Registered |
| --- | --- | --- | --- | --- |
| 1 | Mechanical Engineering | 2014-15 | 3 | 3 |
| 3 | Electrical & Electronics Engineering | 2018-19 | 0 | 0 |
| 4 | Engineering Chemistry | 2018-19 | 1 | 2 |
Guides List
| Sl.No | Name of Guides | Department | Read More |
| --- | --- | --- | --- |
| 1 | Dr. S. C. Kamate, Professor & Principal . | ME | Click Here |
| 2 | Dr. S. A. Alur,Professor . | ME | Click Here |
| 3 | Dr. B. M. Shrigiri, Professor | ME | Click Here |
| 4 | Dr. V. G. Kasabegoudar, Professor | ECE | Click Here |
| 5 | Dr. S. B. Shrigiri, Associate Professor | ECE | Click Here |
| 6 | Dr. P. C. Baraki, Professor | CSE | Click Here |
| 7 | Dr. M. S. Hanagadakar, Associate Professor | First Year | Click Here |
Research scholars
Status Of Completion of
Sl.No
Name of the Research Scholar
Year of Registration
Research Topic
Course Work[Y/N]
Comprahensive Viva Voce[Y/N]
Submited Final Thesis[Y/N]
1
Mahantesh Shivashimpi
Dec-2014
Effect of Combustion Chamber Shapes, Injector Nozzle Geometry and EGR on the Performance and emission characteristics of single cylinder biodiesel fuelled C.I Engine
Yes
Yes
No
2
Kumar Chougala
Dec-2014
Experimental Investigation of the Effect of Pressure, Heater Shape and Modified Surfaces on Pool Boiling Heat Transfer using Suitable Nanofluids
Yes
No
No
3
Malagouda Patil.
Nov-2015
Experimental Investigation and Computational Analysis of Cooling Methods for Solar Photovoltaic Panel
No
No
No
3
Dananjay Lambre.
2015
Yes
No
No
3
Amol Satpute
2015
Yes
No
No
Facilities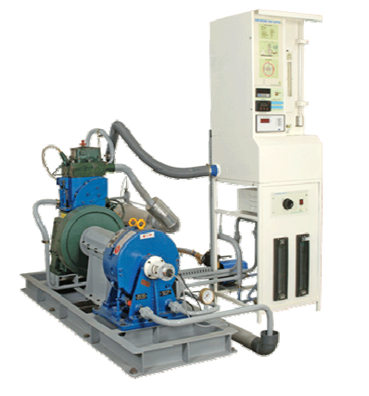 VCR ENGINE TEST SETUP (Specification)
Product VCR Engine test setup 1 cylinder,4 Stroke,Diesel (computerized),Product Code-234.
Engine make kirloskar,Type 1 Cylinder,4 Stroke Diesel,water cooled,power 3.5 kw at 1500 rpm,stroke 110mm,bore 87.5 mm.661 cc,CR 17.5, Modified to VCR Engine, CR range 12-18
Dynamometer type eddy current, water cooled with loading unit
Software "EnginesoftLV" Ebgine Performance analysis software
Overall Dimension W 2000 X D 2500 X H 1500 mm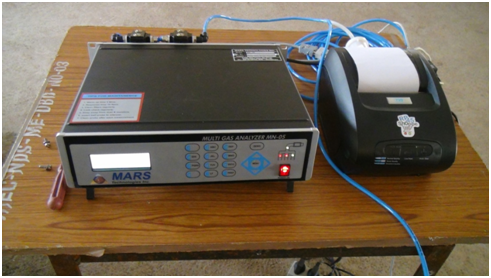 GAS ANALYZER
Principle: NDIR ( Non dispersive infrared technology )
Gas measured CO2,CO,HC and O2 ( Electrochemical sensor)
Measuring Range CO(0 to 10% Volume) : CO2(0 to 20% Volume) , HC(0 – 15000 PPM Vol),O2 (0 to 25% Volume )
Resolution CO(0 .01%) : CO2(0.1%) , HC(1 PPM),O2(0.01%)
Gas flow rate 1500 ml/min
Operating time 1 .Pressure : 860 hpa to 1060 hpa 2. Humidity : 0 to 90 % 3. Temperature : 5 degree C to 45 degree C
Response time < 15 secs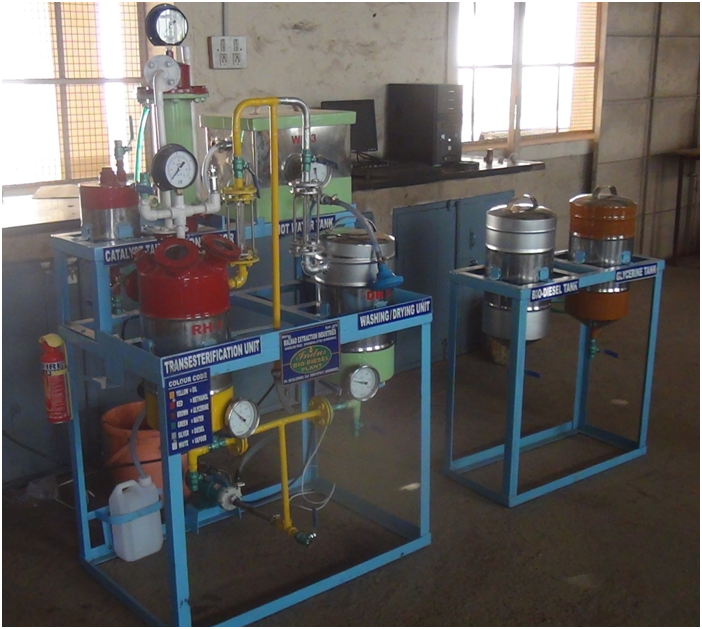 Bio-Diesel Production Plant (5 to 10 Litres per batch)
Trans-esterification Reactor: S.S 304,15 Liters volume Trans-esterificaton reactor with S.S Electric heating coil of 0.5KW, Thermo well with thermometer, S.S liquid flow indicator, Reaction view port, Reaction pressure indicator, Charge/Loading port, Polypropylene circulation pump for liquid transfer and Uniform mixing Reaction test cork, safety valve, etc.
Washing and drying vessel: Washing inlet and outlet and drain valves and drying vessel in SS 304with 15 liters volume Bio-Diesel with top lid and bottom cone. The vessel is fitted with 0.5KW SS heating-coil, thermo meter.
M.S Structure: The structure is a angular structure to mount reactor and equipment's. This structure is specially designed in the form of a portable skid.If required, the structure can be transported to different sites.
Reflux Condenser: S.S 304 Vapor condensing tubes in M.S Body, water inlet & outlet, vapor inlet & condensate outlet with control valve and pipelines like Final vent, Pressure indicating gauge, Vapor inlet, Water inlet & outlet Condensate outlet
Hot water tank:Hot water tank with 20 liters holding capacity equipped with 1.5KW heating-coil, water inlet & outlet, over flow, drain control valves, temperature indicating thermometer mounted on a M.S Stand connected with flexible washing shower
Electric control panel:A traditional electric control panel with single phase/ heating system equipped with indicators, volts and amps meter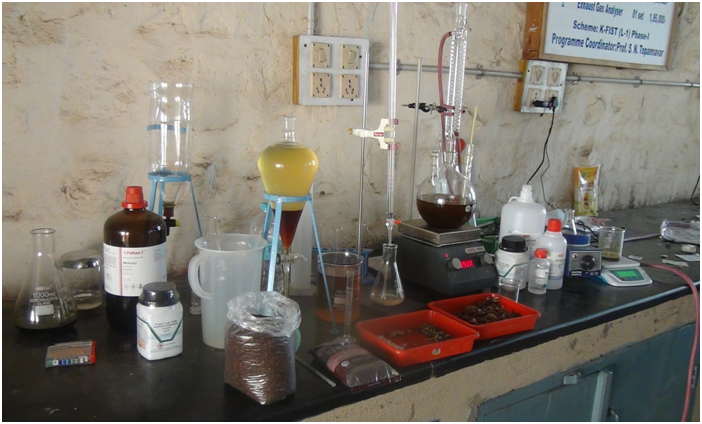 Titration Kit of Bio Diesel Plant
Titration Kit: B-Beaker lowform 250ml Boro lab, B-Beaker lowform 100ml Boro lab, F-Conical flask250ml Boro lab, Conical Flask 100 ml, T-Thermometer 10' C TO 110' C, H-Hydro meter Range: 0.7 TO 1.0, J-Measuring jug 2ltr Poly Propylene, J-Measuring jar 500 ml Poly Propylene, Test tube 25*150 mm (3 Nos), Burette stand with clips, P-Phenolphthalein solution 125ml P40871, I-Isopropyl alcohol 500ml. I11129, Indicator paper ph 0-14Nice I-40656, Heating mantel-250 ml, Graduated glass measuring cylinder 10 ml.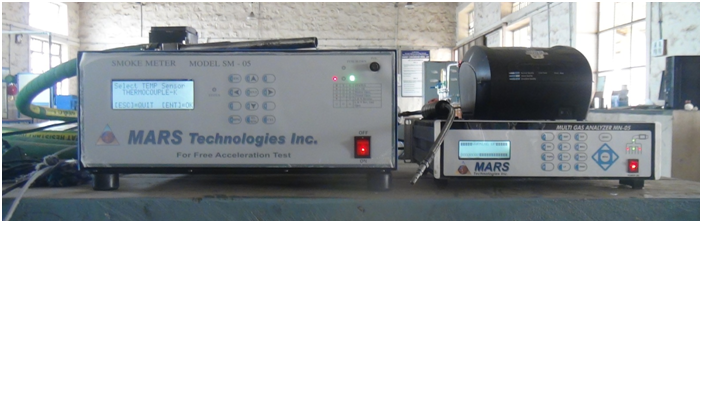 Smoke meter
Measurement range: Absorption 0-99.99 m-1, Opacity 0-100%.
Resolution: Absorption 0.01m-1 Opacity 0.1% Better than +/- 0.1m-.
Operating temperature : 0OC-50OC. Calibration: Automatic
Linearity Check: Around 50% of measurement range at the press of key/lever.
Measurement length: 430mm +/- 5mm,Dimension: 600x260x370mm. (W X H X D). Weight: Approximately 22 Kg s. Power supply: AC 190-240V AC 50. DC 11 V-36V DC within built inverter. Printer: Built in impact printer with provision for multiple print out. Computer interface: RS 232 serial interface to operate on PC for communicating data. Display: Digital, Clear and visible in all natural conditions.
Approval: A.R.A.I. Pune. Results compatibility: Measurement results are fully compatible with Hatridge Smoke Units (HSU). Range/Accuracy/Resolution: The Device should have Calibration for low and high speed with indication. The device should calibrate before each free acceleration test.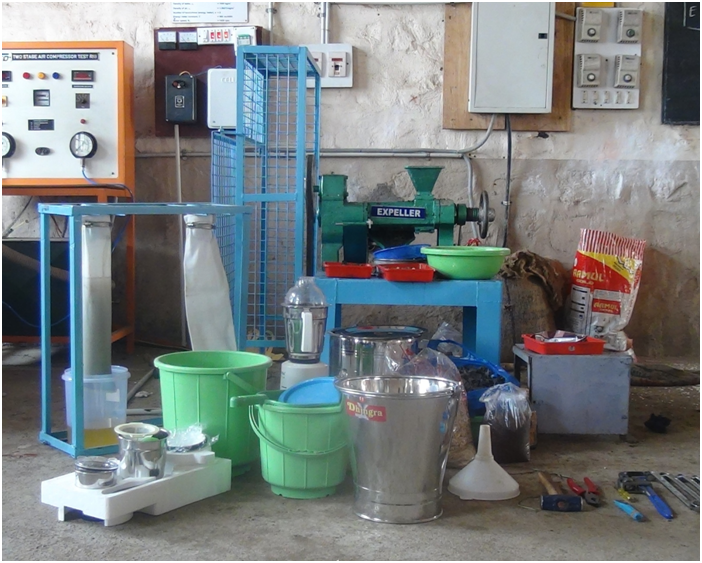 Oil Expeller
Oil Expeller:5-10Kgs per hour oil expeller along with bag filter and accessories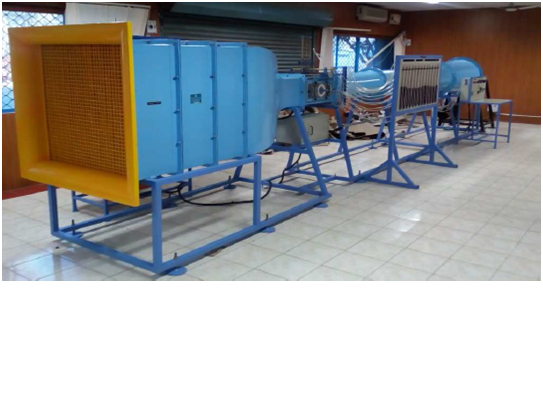 Wind Tunnel with test section of (300x300x1000) mm
Technical Specification: Type : Open Type Wind Tunnel.
Test Section : 300 X 300 X 1000mm
Blower Fan/Axial fan : 5 Blades Aluminum Dia Cast Fan.
Motor : 3 H.P. AC Induction Motor. 2880 Rpm., 440 V / 15 Amp.
Controller : LG Make / Delta Make. Wind Speed in Test Section: 30 M/sec by Suitable Blower Fan/Axialfan.
Duct : Manufactured Out Of Fiber Glass With Inside Smooth Finish .
Length Of Tunnel : 4.2 Meter Approx.
Air Length : 9.5 Meter.
Contraction Ratio : 9:1

Instrumentation : Two Component Digital Force Indicator with Strain Gauge Balance.
Measuring Capacity : Lift Force Up To 25 Kg. Drag Force Up To 10kg.
Multitube Manometer : Acrylic/Galss 400mm Height, 500mm Width (approx) 12 Tubes, 6mm, Dia 0 - 45 Inclination With Vertical Axis.
Micromanometer : 50mm
Micropitot Tube : 15cm. Long Along With Micrometer 0-25mm.
Anemometer : 10-30 M/sec.
The e-Yantra Embedded System and Robotics Lab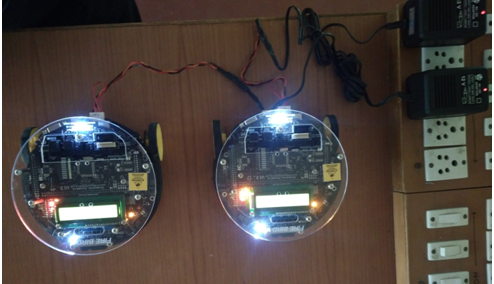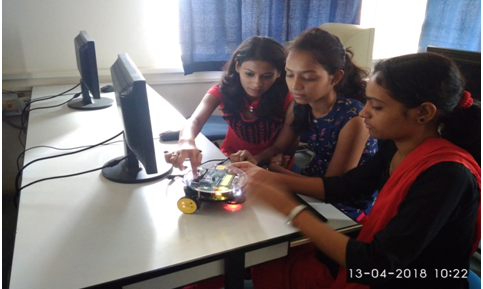 e-YantraThe research flat form 'The e-Yantra Embedded System Lab' has been created in collaboration with IIT Bombay, MHRD, New Delhi and National Education through Information and Communication Technologies, New Delhi to develop innovative projects.
Technical Specification: Firebird V 2560 with ATMEGA 2560 processor, IR proximity sensor,IR Range sensor 60X2 character LCD display, 2.4 GHz wireless Zigbee, Servomotor support.
The TPED Digital library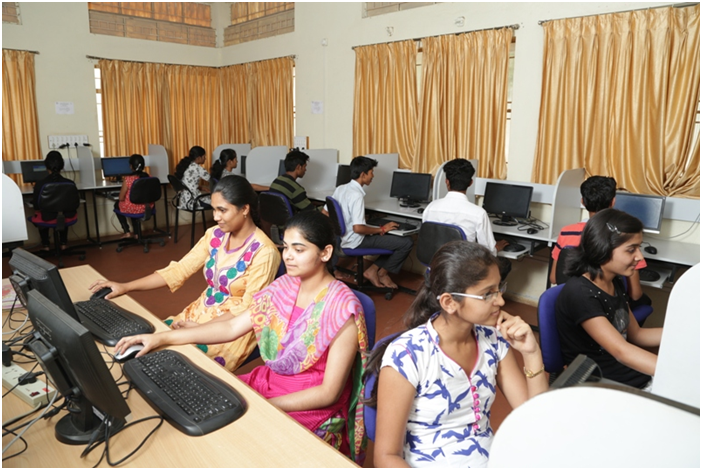 Research Center Lab